Thursday, 09 February 2017
It's snack time for Boo the Bear. Ross Prather approaches with a bucket of fish carcasses and kitchen compost. It's a hot summer's day and Boo has found a shady spot among the fir trees to laze away the afternoon. However the scent of a snack gets his attention; a grizzly's sense of smell is so acute it can detect an animal carcass more than 30 kms away upwind. Under normal circumstances such proximity would be perilous  – man with bucket of food, hungry 275 kg grizzly bear steps away – if it wasn't for the electric fence separating the two.
Boo the Bear has made his home at Kicking Horse Grizzly Bear Interpretive Centre since first arriving in 2003, when he was orphaned after his mother was shot by a poacher. Over the years Prather, refuge manager, has gotten to know this wise old bear well. The specially built, 10-hectare fenced enclosure, found on the Eagle Express Gondola lift line and accessed in summer via the Catamount chairlift, provides a natural habitat for Boo, with forest, meadows and a running stream.
Ursus arctos horribilis – the grizzly's Latin name is enough to strike fear into the hearts of even the most seasoned wilderness traveler. However the opportunity to observe this animal up close is a thrilling experience, enabling visitors like my family and I to better understand grizzly behavior and ecology with the help of Prather and his staff. At times Boo stays deep within the confines of his enclosure, perhaps eating dandelions and digging for springtime bulbs in a meadow, or hunting for squirrel or marmots. However when curiosity gets the best of him, or the dinner bell rings, he approaches the fence. We're lucky today. Boo lumbers out of the forest, snout pointing upward, his powerful shoulders rippling, lustrous silver-brown fir gleaming in the sun. It' hard to overcome the urge to retreat as Boo comes close, but the fence keeps us safe.
A male grizzly typically ranges a territory of between 350 and 800 square kms, but Boo seems content with his home at Kicking Horse Resort – for the most part. Occasionally his urge has gotten the best of him.
"Boo gets a little randy in springtime," Prather says, adding that he has left his enclosure a few times in the past in search of a mate.
However he always comes back.
Meal time is over. A horsefly buzzes courageously nearby and Boo shakes his massive head. Oblivious to my family and I observing from a few metres
away, he strides the fence line before angling back into the forest and finding a nice muddy pool in which to cool himself.  He lowers into the brown water, rolls from side to side, then emerges again, fir dripping with water, then disappears into the cool of the forest. Life is good for Boo and we're thrilled to share a few moments with him.
Disclaimer – Andrew visited Kicking Horse Mountain Resort to see Boo in 2016, Ross has since left his position with Nicole Gangnon taking over as Grizzly Bear Ranger Manager.  Visit Kicking Horse this winter to see Nicole and her team caring for Boo.
Wednesday, 25 January 2017
Your skis that is.
It's recommended you wax your skis every 5 or 6 times out.   The reason being the base of your ski is very porous (similar to your skin) with lotion (wax) you'll have a better running surface.  This will allow for increased glide over all snow conditions, less leg fatigue and increased speed.  The layer of water that is created by the friction between your skis and the snow will wick away from the base of your skis and not get absorbed into the base thus allowing for better glide (even when you're skiing powder).
Remember the base of your skis is just like your skin, when it's dry you take care of this by putting on lotion.  Hot waxing is the lotion for your skis!
Our Professional tech's at the ski resorts will be able to take care of this for all of our guests, find them in the Repair shop located in the village at Kicking Horse Mountain Resort. Just print off a coupon from the Member Benefits website and redeem it at the resort.
Don't forget – if you're a season passholder use this member benefit to get a free tune up – 'Buy 2 Get 1 Free – buy 3 full tune ups for the price of 2, includes edge base and side, stone grind, Ptex and hot wax'.  Just show your season pass to take advantage of this benefit!
Find out more about why to wax your skis and what a tune up entails on Fernie Alpine Resort's YouTube channel (plus find out what the fancy machine behind Harry is used for too).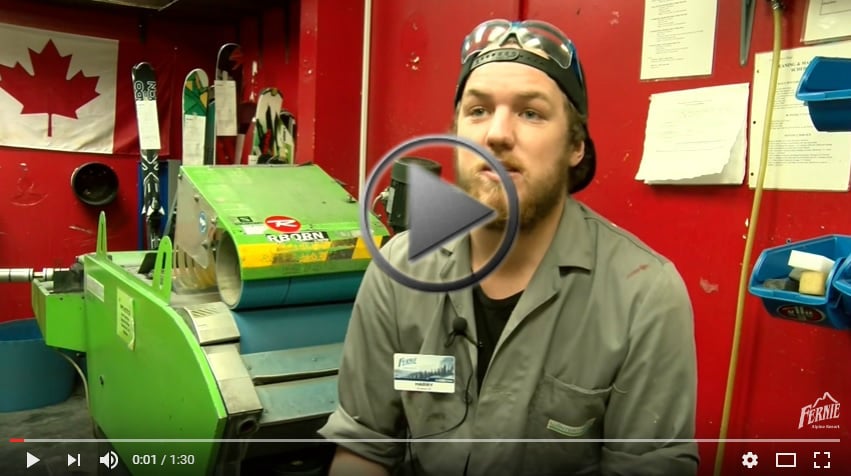 Checking your Ski Equipment now is very important for many reasons, here are the 3 top reasons;
FAQ: I get asked all the time 'Why should I check my Ski Equipment, as I'm not a great skier and spend lots of time on the beginner slopes with kids…"
My Answer: I always say try these- once you try new skis you are on cloud nine. Technology advancements, ski shape, size are some of the many reasons the new skis really do make a difference. You owe it to yourself as it will enhance your skiing skills, make skiing easier and give you more control on the slopes.
FAQ:  I have a pair of skis in the garage- is it okay to use them?
My Answer: The key here is check the bindings- visit your local ski shop or most ski resorts have tune up shops in the rental areas as well.  If you live in Calgary visit your local ski shop like the new Sporting Life store located in Southcentre mall to have a pro look at the bindings to make sure they still are in good shape and meet current binding standards.
FAQ: Do I really need to check the condition of the bases and edges of my skis?
My Answer: Now I don't get my skis tuned all that regularly as I ski mostly in soft, powder snow. But if you are visiting ski resorts that have hard snow or icy conditions regularly then you should definitely get your skis tuned more often. 
Have anymore questions?  Feel free to ask me through my Twitter, Instagram or Facebook page!
Twitter, Instagram & Facebook – @PowderMatt